The child of a Russian Empress and Italian architect whose relationship is synonymous with decadence and opulence, the Baroque Andreevskaya Church is a unique Orthodox church. Checkout a quick breakdown of the Ukrainian national monument over the years, from conception to consecration.
Conceived by Empress Elizabeth Petrovna as her own private church, construction began in 1747 on a holy spot towering above the banks of the Dnepier. Tradition fables thousands of years before, the apostle Andrew climbed that precarious hill, raising a cross on the summit and prophesying that a great city with many churches would grow and flourish among these sacred hills.
Continuing the modernization drive of her father, Peter the Great, the Empress's new church complemented the Mariinskyi Palace currently under construction in Kyiv, with the elaborate designs of the Italian architect Franchesco Bartolomeo Rastrelli winning the final draw.
The Empress and architect worked together on my many magnificent projects, developing what has become known as the Elizabethan Baroque style. Notorious for extravagant luxury and opulent decoration, Rastrelli's signature monument is the above world renowned Winter Palace in Saint Petersburg.
The exterior structure is crowned by a single dome with fours spires and flanked by Corinthian columns, pilasters and ornate cornices. This exterior detailing was finished in 1754, however the decadent interior was not complete until 1767.
Rastrelli personally designed the ornate Iconostasis, decorating it with ornaments, sculptures and painting. Made of lindon wood and gilded in gold, it was carved in St Petersburg alongside the altar canopy, pulpit and Tsar's place.
In total,1,028 slabs of gold were used to decorate the interior. A stark contrast to the ancient Byzantine interior of Kyiv's St Sophia Cathedral, St Andrew's church embodies an Orthodox church in it's Baroque form.
The church was built without a bell tower, as it was not part of a parish and had no parishioners to call to prayer. However as the Empress died before completion, funding was withdrawn as it was the personal church of the Empress. The church was eventually consecrated unfinished in 1767 and relied on local donations.
Due to the precarious position on top of the hill, many repairs have been done over the years, however original plans of the cupolas by Rastrelli were uncovered in Vienna in the 1960's. Using these the exterior was restored to its original form. Luckily, the ornate interior has uniquely remained true to the Elizabethan Baroque original.
Throughout the years, the monument has hosted a range of purposes. It remained an Orthodox church until 1935, following this it was home to an anti-religious museum during the Soviet period, before becoming part of the historical Sophia of Kyiv National Sanctuary Complex.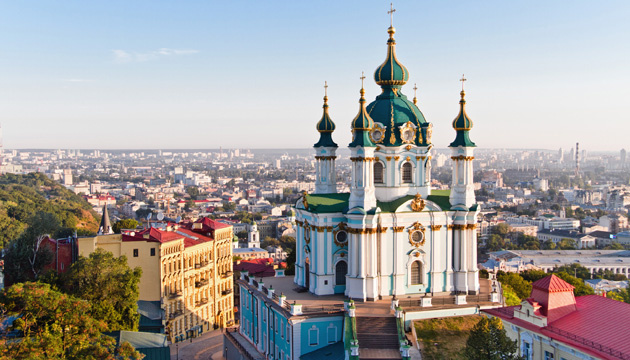 Now one of Kyiv's most famous monuments, Andreevskaya Church watches solemnly over the many hills and many churches of the Ukrainian capital.